Yann Arthus-Bertrand was the first photographer to exhibit his work out of doors and free of charge in public venues.  Highly innovative, the first outdoor exhibition "The Earth from the Air" was presented on the railings around the Luxembourg Gardens in Paris in 2000.  Since then it has travelled to more than 170 towns on all the continents and has been seen by several million people..
These exhibitions are always shown in places which are public and popular, out of doors or in the interior, with access free of charge.  They are presented, on average, for two months.
A true appeal to raise collective awareness of the state of the planet.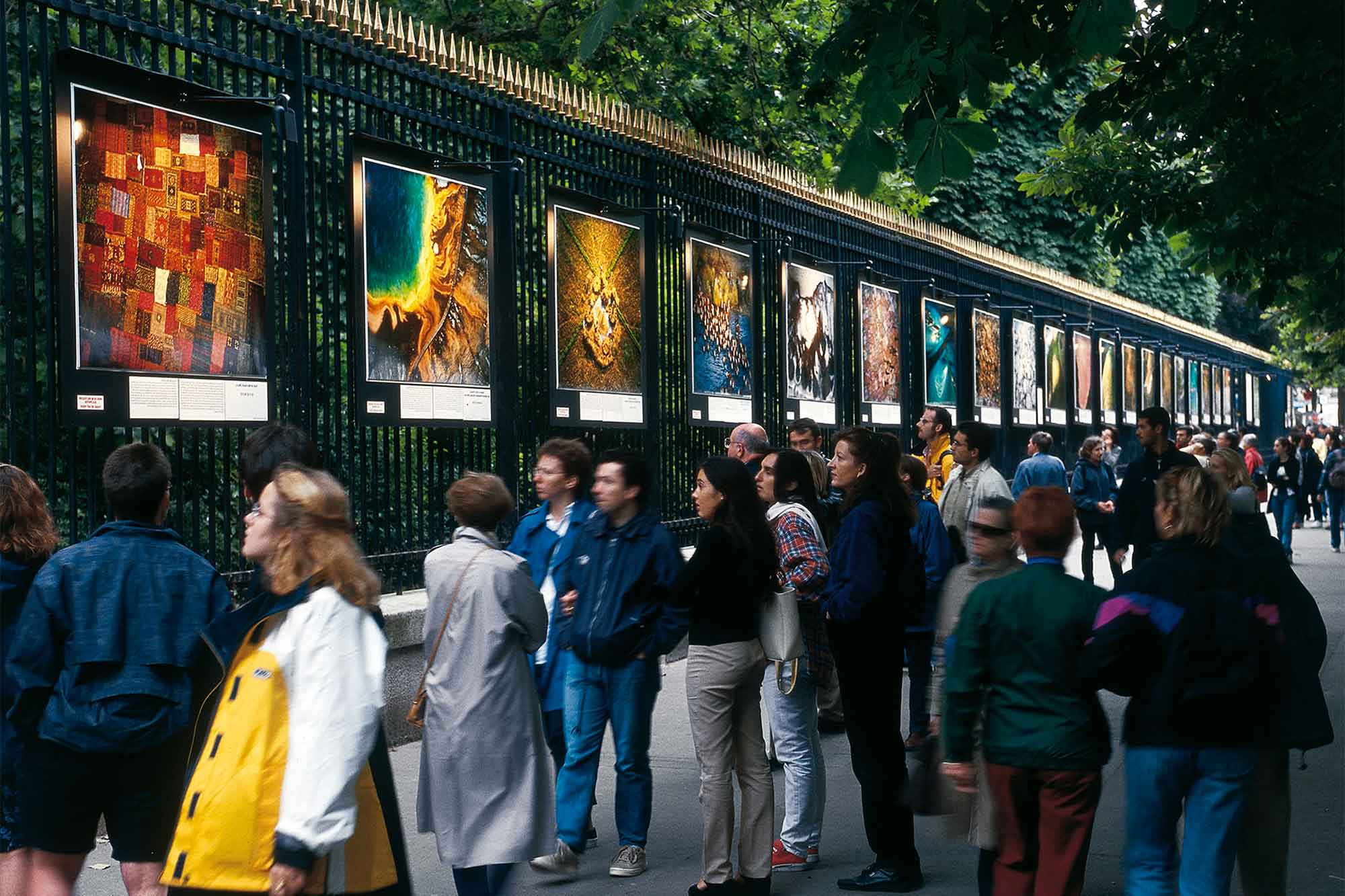 EXHIBITIONS « LEGACY » RETROSPECTIVE
2022
France, Nice, Musée de la Photographie Charles Nègre – Promenade du Paillon, Espace Jacques Médecin, Place Pierre Gautier: September 24th, 2021 – January 16th, 2022
2021
France, La Seyne-Sur-Mer, Villa Tamaris Centre d'Art: June 12th -August 29th, 2021
2020
Belgique, Mons, Parc du Beffroi et salle Saint Georges: July 4th – 25 October 25th ,  2020
2019
France, Paris, Le Toit de la Grande Arche: June 27th – December 1st 2019 
2018
Switzerland, Lens, Fondation Opale Crans Montana: December 15th – March 30th 2019 
EXHIBITIONS « THE EARTH FROM ABOVE »
2014
Italy, Milano, Museo Civico di Storia Naturale Corso Venezia: June 24th – November 23rd 2014 
2013
Brazil, Brasilia, Conjunto Cultural da Republica Square: October 26th – November 4th 2013
Brazil, Sao Paulo, Art Museum of Sao Paulo, Avenida Paulista: October 15th – December 15th, 2013
2012
Italy, Vald'Aoste, Fort de Bard : December 7th, 2012 – June 2nd, 2013
Brazil, Rio de Janeiro, Cinelandia square: April 26th – June 24th, 2012
Brazil, Brasilia, Republic square: October 04th – November 04th, 2012
France, Narbonne, Chateau de l'Hospitalet: May 12th – September 30th, 2012
2010
Bangladesh, Dacca, National Parliament: December 10th – February 10th, 2011
New-Zealand, Aucland, Aotea Square: November 3rd – December 19th, 2010
Hong-Kong, Olympian City : October 20th – December 26th, 2010
Irland, Armagh: May 29th – August 30th, 2010
France, Argelès, Promenade du front de mer: April 9th – September 26th, 2010
Maroc, Rabat, Parc Hilton: April 17th – June 15th, 2010
Mauritius Island, Port Louis, Caudan: April 9th – June 10th, 2010
Syria, Homs: February 11th – May 10th, 201
2009
England, Bath: August 20th, 2009 – End of February 2010
India, Mumbai: December 5th, 2009 – January 8th, 2010
Morocco, Arsat Moulay Abdeslam Parc: October 3rd, 2009 – January 3rd, 2010
Syria, Aleppo – Citadel: October 2009 – January 2010
Poland, Bialystok – August 7th – October 18th 2009
South-Korea, Inchoeon Metropolitan City, Global Fair and Festival: August 7th – October 25th, 2009
France, Calais, Parc Saint-Pierre: July 20th – October 31st, 2009
France, Montpellier, Pavillon Populaire : July 2nd – Ocotber 11th, 2009
Syria, Damascus, Tishreen Garden: May 15th – August 29th, 2009
Morocco, Casablanca, Parc de la ligue Arabe: April 27th – July 27th, 2009 
2008
Puerto Rico, Old San Juan: November 19th 2008 – June 30th 2009
England, Oxford, Castle  : September 20th, 2008 – End of February 2009
Thailand, Phuket, central festival : October 25th, 2008 – February 1st, 2009
Australia, Perth, Cultural Center outdoor grounds, Northbridge: October 15th, 2008 – January 21st, 2009
Kirghizistan, Place Ala Too: September 6th – November 6th, 2008
France, Reims, Parc de Champagne: May 1st – May 5th, 2008
Thailand, Bangkok, Zen Outdoor Arena: June 3rd – September 30th, 2008
Russia, Novossibirsk, Lenin square: June 14th – July 14th, 2008
Belgium, Bruxelles, European Parliament: June 12th – June 30th, 2008
Peru, Lima, Parque Kennedy de Miraflores: April 15th – June 15th, 2008
2007
Australia, Sydney: June 25th – December 26th 2007
Czech Republic, Plizen Safararikovy Sady: June 28th – October 7th, 2007
New-Zealand, Tauranga: October 12th – November 25th, 2007
Bulgaria, Sofia: September 18th – November 18th, 2007
Poland, Lodz: May 15th – October 24th, 2007
Wales, Swansea: June 5th – July 25th 2007
Serbia, Belgrade, Kalemegdan Park: June 8th – September 1st, 2007
Puerto-Rico, Caguas: April 18th – June 30th, 2007
Japan, Tokyo: June 1st – June 30th, 2007
Belgium, Bruxelles (Park of Bruxelles): April 4th – June 4th, 2007
England, Norwich: March – April 2007
Uruguay, Montevideo: February 27th – March 28th, 2007
New Zealand, Wanaka: March 8th – May 1st, 2007
2006
New Caledonia, Nouméa: Ocotber 24th – December 17th, 2006
Australia, Melbourne: September 14th – December 17th, 2006
Netherlands, Amsterdam: September 6th – November 30th, 2006
Czech Republic, Prague: August 4th – October 29th, 2006
England, Plymouth: August 29th – October 24th, 2006
France, Trégastel: June 3rd – October 15th, 2006
Russia, Moscow: July 25th – September 17th, 2006
Italy, Palermo: March 24th – July 16th, 2006
Danemark, Skagen: May 29th – August 28th, 2006
Korea, Seoul, National Assembly: May 1st – July 15th, 2006
France, Rouen, Hôtel du département: May 5th – July 9th, 2006
Spain, Madrid, Retiro Parc: May 26th – June 26th, 2006
Belgium, Knokke: April 1st – May 28th, 2006
Danemark, Copenhague, Krystalgade: January 7th – March 25th, 2006
New Zealand, Wellington: February 24th – April 9th, 2006
2005
United Kingdom, City of London, South Bank, River Thames, Between London Bridge and Tower Bridge – from 22nd April, 2005 to 19th February, 2006
Dominican Republic, Santiago: October 25th, 2005 – January 10th, 2006
Singapore, Orchard Street: October 26th, 2005 – january 17th, 2006
Armenia, Erevan, National Gallery: Ocotober 21th – December 31th, 2005
Tadjikistan, Duchanbe, Lenine Parc, Roudaki avenue: September 22nd – November 22nd, 2005
France, Castle of la Bourdaisière: April 29th – November 20th, 2005
Cyprus, Nicosie, Eleftheria Place: September 16th – November 10th, 2005
United Kingdom, Leeds, Millennium Square: September 10th – November 10th 2005
Switzerland, Geneva, Parc des Bastion: June 9th – October 30th, 2005
Finland, Helsinki, Lasipalatsi: June 17th – September 18th, 2005
Korea, Imjimgak: August 8th – September 11, 2005
France, Sarran (Corrèze), Musée du Président Jacques Chirac: October 22nd – August 31st, 2005
Slovenia, Ljubljana: May 23th to August 15th, 2005
Dominican Republic, Santo Domingo: April 22th – July 14th, 2005
Afghanistan, Kaboul, Parc Shar I Nao: April 25th – June 7th, 2005
Poland, Zabrze (Silesie): September 4th – May 1st, 2005
United Kingdom, Bristol, Anchor et Millenium Square: October 9th – January 9th, 2005
United Kingdom, Birmingham, Taown Hall, Victoria square: July, 6th – spring, 2005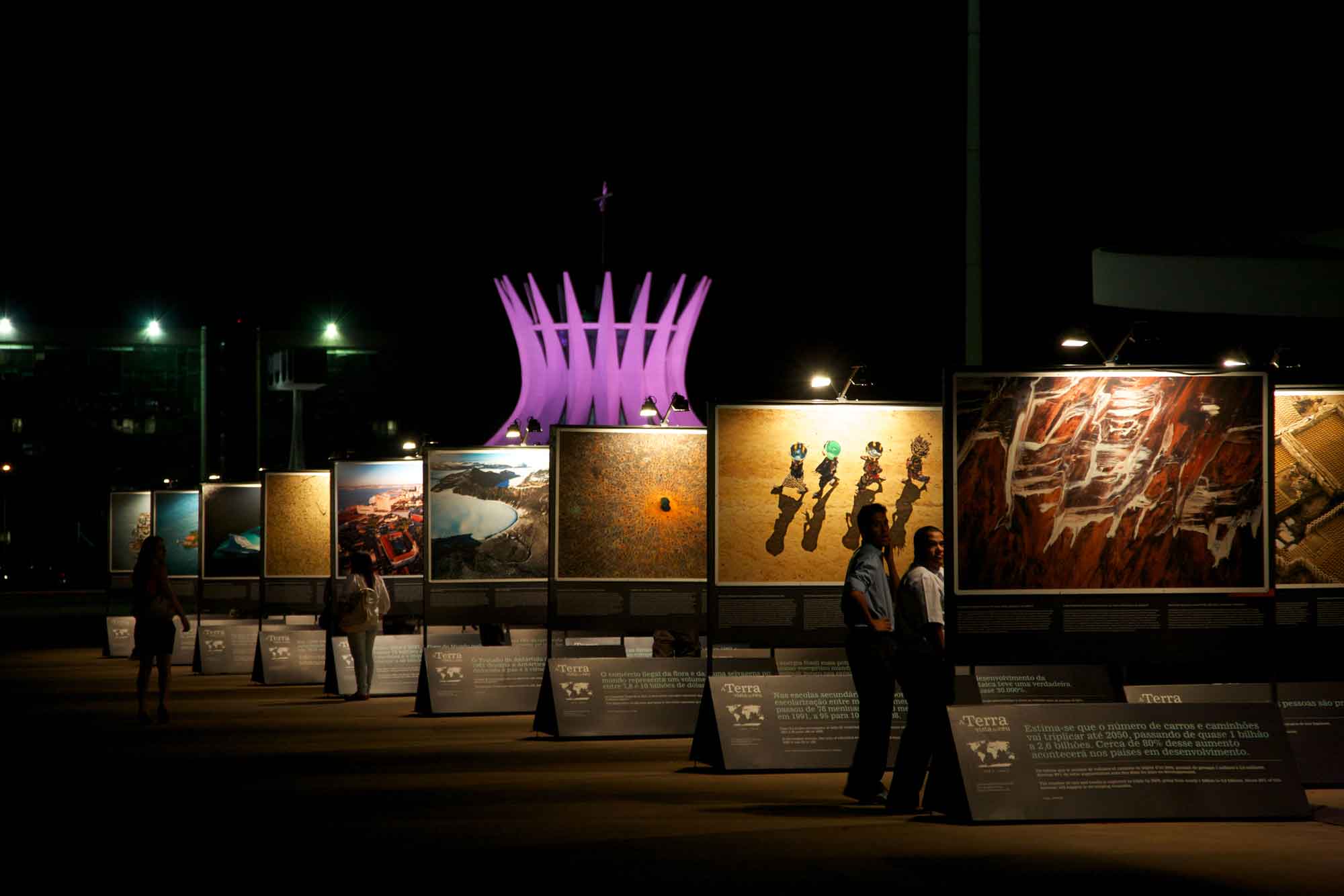 2004
France, Avignon, cloître Saint-Louis: September, 15th – December 15th 2004
Italy, Milan, via Dante: September, 10th – December, 26th 2004
Austria, Vienna, Museumsquartier Vorplatz: April, 5th – November, 21st
Korea, Seoul, Coex: July 27th – October 27th
Portugal, Lisbone, Praia do Comercio: May, 17th – November 1st 2004
United-Kingdom, Edinburgh, Royal Botanic Garden: July 30th – September 30th
Taiwan, Kaoshiung: May – July 2004
Argentina, Buenos Aires, Plaza San Martin: March, 31th – August 1st 2004
Qatar, Doha, on the cornice on front of the sea: october, 5th 2003 – May, 31st 2004
Poland, Poznan, International Trade: February, 21th – May, 8th 2004
United Kingdom, London, Natural History Museum: June, 18th 2002 – May 31st 2004
Saudi Arabia, Djeddah: 24th March – 12nd May 2004
Taiwan, Taichung: February 5th – April 4th 2004
Saudi Arabia, Riyad, AbdulAziz Historical Center: January, 17th – March, 3rd 2004
The Netherlands, Amsterdam, Stopera, Amstel: September, 1st 2003 – February, 2nd 2004
Saoudia Arabia, Al Janadrya: December, 17th 2003 – January 17th 2004
Taiwan, Taipei, Chiang Kai-Shek Square: November, 14th 2003 – January, 15th 2004
2003
Chili, Santiago, Plaza de la Constitution (In front of the Palacio de la Moneda): October, 1st – November, 30th 2003
Denmark, Slagelse: July 5th – November 2nd 2003
Singapore, Singapore: September 2003
Sweden, Goteborg: June 29th – September 15th 2003
Iceland, Reykjavik: May 31st – July 31st 2003
Mexico, Queretaro: April 11th – July 11th 2003
Senegal, Dakar, E Point, Piscine Olympique: May 15th – June 30th 2003
Norway, Trondheim, Nedre Elvehavn: March 7th – June 22nd 2003
Mexico, Guadalajara: November 11th 2002 – February 14th 2003
Spain, Seville: December 5th 2002 – January 15th 2003
2002
Lebanon, Beirut, Place de l'étoile: July 16th – November 2002
France, Omonville-la-Rogue, Le Tourp Cultural Centre : March 29th – November 12th 2002
France, Lyon, Prefecture railings: July 1st – November 5th 2002
Poland, Warsaw, railings of the Royal Baths gardens: June 7th – end of October 2002
Mexico, Veracruz, on the harbour: July 18th – October 14th 2002
Canada, Montréal, avenue Mc Gill: June 4th – Ocotber 31st 2002
Norway, Olso, Radhusplasse: June 24th – October 1st 2002
Sweden, Stockholm, Raoul Wallender St. : June 1st – October 1st 2002
USA, Chicago, Millennium Park: June 21st – September 29th 2002
Germany, Berlin, Potsdamer Platz: July 8th – September 19th 2002
Hungary, Budapest, Fine Arts Museum: July 5th – August 22nd 2002
Mexico, Mexico City, railings of the Chapultepec park: March 7th – June 31st 2002
Russia, Samara, Ossipenko St. : June 29th – September 15th 2002
Spain, Lanzarote, Fundación César Manrique: March 7th – April 14th 2002
Venezuela Caracas, Centro de Arte La Estancia: February 20th – April 7th 2002
Spain, Elche, Caja de ahorros mediterranea: January 24th – February 20th 2002
Japan, Kobe, Daimaru Museum Kobe: January 24th – February 5th 2002
Spain, Murcia, Caja de ahorros mediterránea: December 20th 2001 – January 20th 2002
2001
Belgium, Gent: November 10th – December 31st 2001
France, Marseille, Hôtel de Région: September 17th – December 18th 2001
Denmark, Aarhus, Lille Torv: September 22nd – November 1st 2001
Germany, Hamburg, Baumwall: July 19th – October 17th 2001
Spain, Saragossa: October 2001
Spain, Malaga: July 23rd – September 30th 2001
Denmark, Copenhagen, Square Kongens Nytorv: July 5th – September 17th 2001
Mexico, Monterrey, Museo de Historia Mexicana: April 23rd – end of July 2001
France, Paris, Auber tube station: June 1st – July 30th 2001
Spain, Gerona: June 8th – July 14th 2001
Germany, Hanover, Royal Gardens: May 22nd – June 30th 2001
Switzerland, Zurich, Landesmuseum: March 29th – June 24th 2001
Spain, Victoria, Centro Cultural Montehermoso: April 5th – June 3rd 2001
France, Saint-Brieux, Museum of Saint-Brieuc: December 12th 2000 – April 29th 2001
Spain, Vigo, Casa das Artes: March 9th – April 1st 2001
France Monaco, Forum Grimaldi: February 6th – March 15th 2001
Belgium, Grand Hornu: September 23rd 2000 – January 30th 2001
Japan, Osaka: December 27th 2000 – January 5th 2001
2000
France, Paris: Luxembourg Gardens: June 15th – December 30th 2000
France, Strasburg: September 6th – October 30th 2000
Spain, Barcelona, Palaccio de la Virreina: July 10th – October 2000
USA, New York City, New York Public Library: October 25th – August 30th 2000
Spain, Madrid, Centro Cultural de la Villa: June 8th – end of July 2000
Japan, Tokyo, Bunkamura Museum: June 10th – July 9th 2000
France, Paris, Luxembourg Museum: May 2nd – June 15th 2000
Turkey, Ankara, Cultural and linguistic Cooperation Centre of Ankara: May 8th – 15th 2000
Luxembourg, Luxembourg, Bank of Luxembourg: December 2nd 1999 – April 20th 2000
Brazil, San Carlo: March 15th – April 15th 2000
Italy, Cernobbio: 27th – 29th February 2000
Brazil, Sao Paulo: January 18th – February 20th 2000
Italy, Milan, Galleria Bianca Pillat: November 1999 – February 20th 2000
1999
Switzerland, Geneva, Les Bâtiments des Forces Motrices – Quai du Rhone-Genève: November 24th – December 7th 1999
EXHIBITIONS « HORSES »
2006
France, La Roche sur Yon, Haras: June – July, 2006
Belgium, Knokke: April 02 – May 28th, 2006
2005
France, Le Pin au Haras, Haras du Pin: June 15th – September, 2005
Australia, Melbourne, Australian Racing Museum and Hall of Fame: October 6th 2005 – January 31, 2006
Sweden, Stockholm: November, 2005
2004
Denmark, Copenhagen: September 29th – December 29th, 2004
2003
France, Paris, Salon de l'Agriculture: February, 2003
EXHIBITIONS « GOOD BREEDING »
2016
France, Uzerche, Machine: June 2nd – September 11th, 2016
2010
France, La Censé: September 11th – October 10, 2010
2007
France, Apremont sur Allier, Parc Floral: April 4th – September 30th, 2007
2006
France, Paris, Salon de l'Agriculture: February, 2006
2004
France, Montlouis-sur-Loire, Chateau la Bourdaisière: May 13th – October 15th, 2003
2002
France, Rambouillet: 2002
EXHIBITIONS « VIVANTS »
2010
France, Reims, Parc de Champagne: June 6th – November 30th, 2010
France, Calais, Parc Saint-Pierre: May 20th – September 30th, 2010
2009
Czech Republic, Pizen: June 17th – September 27th, 2010
2008
Czech Republic, Prague, Namesti Republiky Square: June 11th – September 30th, 2008
Canada, Montréal, Jardin Botanique: June 14th – October 13th, 2008
2007
France, Paris, Quai Branly: May 21th – August 22nd, 2007
Switzerland, Zurich : 2007
Switzerland, Bâle : 2007
Switzerland, Berne : 2007
Switzerland, Genève : 2007
Switzerland, Lausanne : 2007
2006
France, Paris, Bois de Boulogne: June – October, 2006
France, Montier en mer, Festival de la photo animalière: November 13th – December 11th, 2006