After having spent years on the Saint-Augustin estate in France establishing an animal park while at the same time following the different stories about his heros, Diane Fossey, George Adamson, or Jane Goodall, Yann Arthus-Bertrand dreamed of going to study, in the field, the animals he had come to know in captivity, such as the lion.
It was then that Yann met his wife, Anne who had two young children. The four of them packed up and went to live in Kenya.
For the first time in his existence, Yann felt himself to be in his true element. His destiny was on the move. These three happy year spent living in a house made of bamboo and studying the Lions are among the happiest in his life.
Each day, the couple set off to search for big cats. « We did not possess collar transmitters. Finding the lions sometimes proved impossible. »
"The house was situated in the center of the Masai Mara nature reserve. It attracted a large number of animals. Baboons were regular visitors and wee had to leave the radio on to keep them away; they once stole a day's work by unwinding my exposed film.
But it was brilliant: elephants and rhinoceros would take their baths in front of the house.
The very first day, a couple of lions were mating as we arrived and we had to wait twenty-four hours before we could move in. »
LA PHOTO
Prise en 1978, c'est une photographie argentique. Sa diapositive originale est conservée par l'atelier Yann Arthus-Bertrand à Paris.
LE TIRAGE
Œuvre originale de Yann Arthus-Bertrand limitée à 8 exemplaires. Les tirages sont réalisés exclusivement par l'Atelier Yann Arthus-Bertrand à Paris sous le contrôle de l'artiste lui-même.

Tirage signé, image pleine

Tirage numérique réalisé par l'atelier Yann Arthus-Bertrand, Imprimante jet-d'encre Canon IPF 9400, encre pigmentaire, Impression sur papier fibre 100% coton sans acides (Museo Silver Rag)

>> voir des tirages dans l'Atelier YAB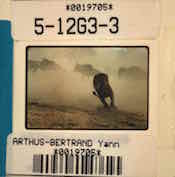 POUR LES ŒUVRES SIGNÉS ET NUMÉROTÉES
Tous nos encadrements sont réalisés sur mesure et fait main. Le bois sélectionné pour les cadres est directement coupé et assemblé en fonction de l'œuvre et peint selon le choix.
Pour les tirages signés, l'atelier Yann Arthus-Bertrand offre trois choix de cadres: bois foncé, bois peint blanc, bois peint noir.
Il est possible ensuite de choisir le cadre sous verre ou bien sous verre anti-reflet.
POUR LES ÉDITIONS LIMITÉES
L'acquisition de l'œuvre se fait par le tirage uniquement.
Pour toutes demandes concernant l'encadrement nous vous invitons à envoyer un email à atelier@yannarthusbertrandphoto.com
>> voir des encadrements dans l'Atelier YAB et galeries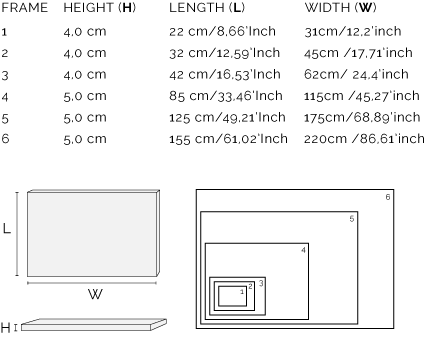 Delivery charges are at the expense of the purchaser. Delivery time depends on the country in which you live. Between 1 and 2 weeks should be allowed for a print and 3 to 4 weeks for a framed print.
Only for orders taken in July and August, between 3 to 4 weeks should be allowed for a print and 5 to 6 weeks for a framed print.
Once the order is validated, the print is made, signed and framed in accordance with your request.
Customs duties and VAT outside the European Union (+ Iceland, Norway, Liechtenstein) are at the expense of the purchaser. We invite you to get in touch with the Customs services in your country for more information on this subject.
The Yann Arthus-Bertrand Studio works with specialised transporters, who are authorised to deliver works of art.
Once the print/frame has been dispatched, you will receive an e-mail from the Studio giving you the name of the transporter, the number of the parcel and the estimated date of delivery.